Subramaniam Ganesan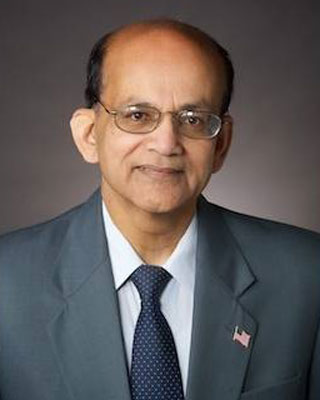 Dr. Subramaniam Ganesan, is a Professor in the department of Electrical and Computer Engineering, Oakland University, Rochester, MI 48309, USA. He has over 30 years of teaching and research experience in Digital Computer systems. He was the chair of the CSE department from1991 to 98. He received Ph.D. from Indian Institute of Science, Bangalore, India. He worked at National Aeronautical Laboratory, India, Ruhr University, Germany, Concordia University, Canada, and Western Michigan University before joining at Oakland University. He has published over 100 journal papers, more than 200 papers in conference proceedings, and 3 books. More than twenty students have obtained PhD under his guidance and 8 students are currently doing PhD. He published a book on Java in 2003. He developed a custom DSP board with software for his DSP book. He is a senior member of IEEE, IEEE Computer Society
Distinguished Visiting Speaker, IEEE Region 4 technical activities member and Fellow of ISPE. He received Life time Achievement award from ISAM, Lloyd L. Withrow Distinguished Speaker Award from SAE, Best Teacher award from ASEE, and Best teacher award from Oakland University. Received "Best service award" from ISPE. Best Professor award from ASDF. Received the Albert Nelson Marquis Lifetime Achievement Award by Marquis Who's Who. Dr. Ganesan has been endorsed by Marquis Who's Who as a leader in the fields of electrical and computer engineering.
He has organized many international conferences. He is the editor in chief of an International Journal of Embedded system and Computer Engineering and International journal of Sensors and applications. He is the session organizer on "Systems engineering" at SAE world congress for the past 15 years. More details about him can be obtained from the web address: www.secs.oakland.edu/~ganesan. His research interests are in Real time system, parallel architectures and computer systems, Mobile computing, Automotive embedded systems and signal processing. He holds multiple patents in embedded system applications.
IOT System Security Challenges (2020)
Status: Available Now
In this presentation, IOT embedded system security, software and hardware solutions, security threat due to WiFi/ RF communication, security threats due to advanced wireless sensors, over the air software updating, data routers with cloud-based computing are presented. Need for real time protection, secure protocols for communication, role of Hardware Security Modules (HSM) in IOT are also discussed. Software algorithms, modeling and testing are presented.
---
Live Q&A - IOT System Security Challenges (2020)
Status: Available Now
Live Q&A with Subramaniam Ganesan following his talk titled 'IOT System Security Challenges'
---